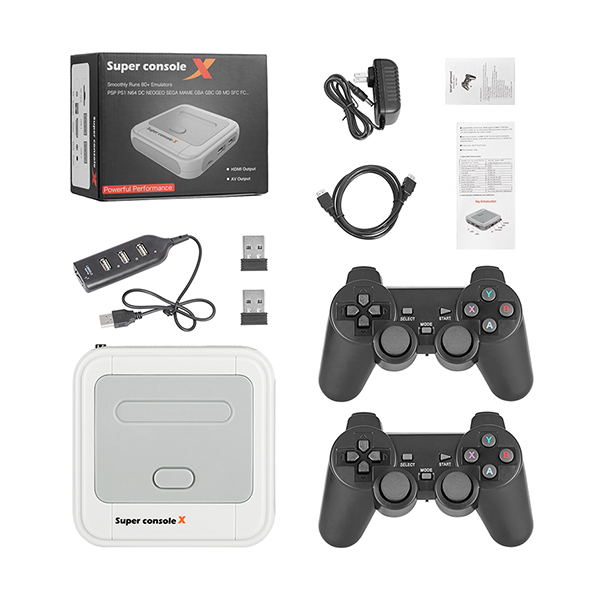 Our Company launched a new game console -Super Console X in December 2022.The video of Super Console X received a lot of views and praises on youtube so that the Super Console X was very popular.
It was so popular is because the Super Console X is an affordable retro games console that can emulate a majority of your favourite retro video games.
What makes the Super Console X is the plug and play nature of it. It comes with thousands of pre-loaded games,you just plug the USB receiver of the controllers on game console , choose your game and you can play the games your like!
You can get a great experience in playing game for the Super Console X.
Super console x is equipped with high-performance Amlogic S905X quad-core 64-bit Cortex-A53 CPU driver, Mail-450 GPU, the main frequency can reach 2.0GHz, the analysis ability is stronger, and the operation is smoother. You can also always keep the game progress and let you experience the fun of the game!
The console has a built-in cooling fan, which can effectively prevent the console from being downclocked or stuck due to excessive temperature during operation. After the built-in cooling fan, it can run games.
The latest generation of game consoles can be used by global buyers and designed in 26 languages. The system supports English, French, Korean, Spanish, Polish, Russian, and Japanese. Give you a more comfortable and familiar gaming experience! Upgrade your gaming experience to the limit.
The Super Console X supports 64gb/128gb/256gb TF card,built in 30000/40000/50000 games, and supports up to 5 players, allowing you and your child to be intimate and experience the fun of the game!
What's more ,the Super Console X also updated new version-Super Console X Pro,Super console x pro is equipped with Android 7.1 operating system,it not only support game system,but also support TV system, you can watch movies on the console and add download Apps.
---
Post time: Nov-17-2022